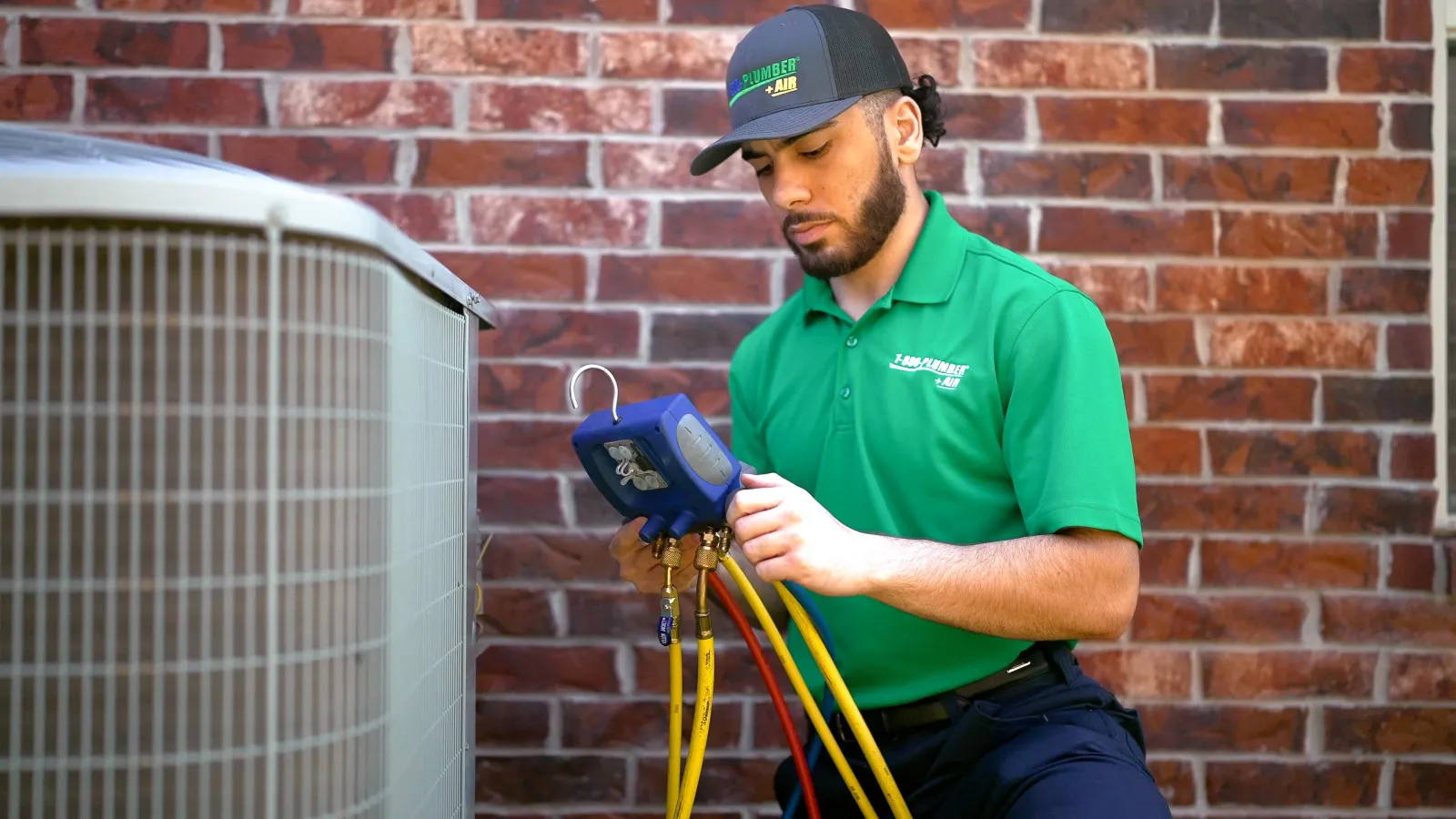 The Name Dallas Trusts for
WATER LEAK SERVICES
Having a
HOME EMERGENCY?
Call or Find Your Nearest Pro!
The zip code you entered is not associated with one of our locations. Please visit our Locations page to find your closest location.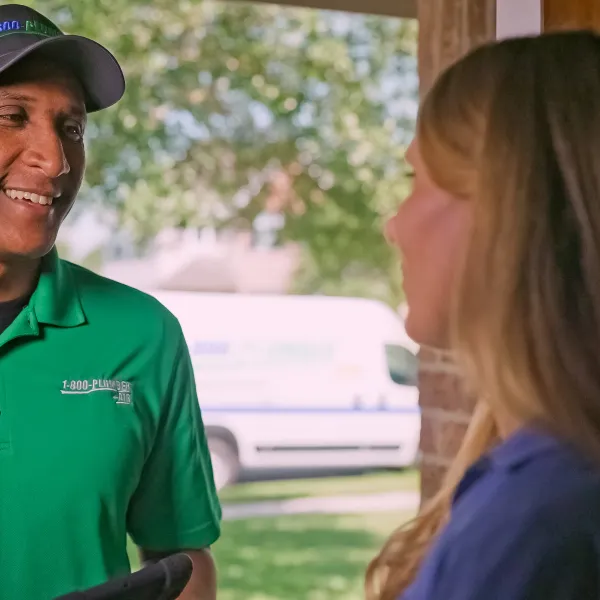 Pipes Leaking
1-800-Plumber +Air of Dallas

Pipes leaking can be a headache if ignored because they can potentially damage your furnishings and the structure of your home. As all homes rely on water, it's essential to keep your pipes in check by catching a leak as early as possible and having a trusted plumber at 1-800-Plumber +Air of Dallas to repair it. Nipping leaks in the bud starts with identifying the glaring signs of an impending leak.
What Causes a Pipe To Leak?
A leaky pipe causes severe damage to your property by ruining your walls, ceilings, floors, and more. The moisture can also make your home a breeding ground for mold and mildew. Aside from expensive repair bills, you will also pay skyrocketing water bills. Once you understand the most common reasons for leaky pipes, contact 1-800-Plumber +Air of Dallas so you can prevent future plumbing issues.

Damaged Seals: Seals ensure that your pipes remain intact. Wherever your pipes are connected, the rubber seals should be placed around them to keep them secure and watertight. However, seals are not impervious to damage. They can break and affect the efficiency of your pipes. If you suspect your watertight seals are wearing out, contact us so we can identify the problem and get your leaks fixed.

Old Pipes: Like seals, pipes are not made to last forever. They will only remain functional over specific periods of time. If your pipes are made from metal or steel, they will become more vulnerable to corrosion. Once pipes are corroded, they will start to become weak and will break down. You will need to replace them with newer pipes because old pipes that have already broken down are prone to leaks.

Upgrading to newer pipes made from plastic or copper will prevent corrosion. While these materials don't guarantee to last forever, at least, you will no longer have to worry about corrosion damaging the pipes.
Clogs: In most cases, clogs are more of an annoyance than a plumbing issue, but when it goes untreated, pressure will start building up causing pipes to break or crack. Clogs may also contain corrosive substances like chemical-based cleaners that can eat through the metal pipes and cause further damage. Address clogs right away to prevent leaks.
Tree Roots: The roots of the tree in your backyard may not be alarming until it continues to grow. When roots start intruding on the pipes, it will be too much for the plumbing system to bear. If pipes break, they will leak water out into the dirt. If you see a wet patch around the pipes in your yard where a tree is planted, it could mean that the tree roots have damaged them.
Incorrect Pipe Installation: Pipes leaking can also be caused by improper installation. If pipes are not installed correctly, your plumbing will not work efficiently. Only a licensed professional can lay pipes and connectors correctly with the use of backflow devices. Call 1-800-Plumber +Air of Dallas to evaluate your plumbing if you're unsure of whether or not pipes were installed correctly.

Temperature Fluctuations: Changes in temperature have a serious impact on your pipes, causing them to contract or expand. Fluctuations often occur during the winter months. Keep an eye on crack formation because it's one of the primary reasons for leaks. This problem isn't unique to older pipes as newer ones are susceptible as well.
Too Much Water Pressure: While having strong water pressure is a good thing, too much pressure can harm your pipes. If pipes cannot handle water pressure, they can burst and cause leaks.
Broken Pipe Factors
There are environmental factors that can take a serious toll on your pipes. Before you decide to call 1-800-Plumber +Air of Dallas, you'll have to identify what these factors are. Tremors and earthquakes are considered major environmental factors that can cause severe damage to pipes. Critical pipe joints that have experienced environmental stress also need repairs to prevent leaks.

Winter can also be harsh to your pipe systems so you need to watch out for sudden drops in temperature. These changes can affect pipes of all materials and sizes.
Pipe joints and laterals

Cement pipes

Copper pipes

Orangeburg pipes

Clay pipes

PVC/plastic pipes

Cast iron pipes
Another factor that can jeopardize your pipes' integrity is the intrusion of animals, plants, and even digging. When dealing with leaks, make sure you're not only fixing the damage but you're delving into the problem as well. These pipe issues may happen again if you haven't properly identified what is causing the problem.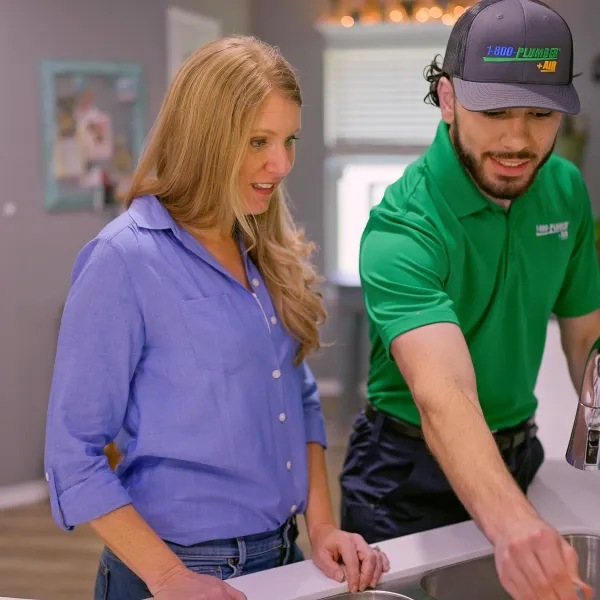 What to Do if You Have a Broken or Leaking Pipe
Discovering pipes leaking can be stressful but there are solutions to prevent serious damage. Keep in mind that these are only temporary fixes and calling 1-800-Plumber +Air of Dallas is still your best bet because they can provide the right solution and finish the job successfully.
Locate the source of the leak
The pressure will lead you to the source of the leak. They can either be found above the ceiling or inside a wall. You'll know there's a leak if you hear water spraying inside your ceiling or wall. The drywall also becomes wet and they can often be found at the joints between your panels. If the water stains the ceiling, the source of the leaks may be above. If there are no obvious signs of leaks above, get a flashlight and check the pipes in your crawlspace or basement.

Shut off the water supply
Look for the valve that controls the water flow to your damaged pipe and shut it off.
Attach a pipe repair clamp
Sleeve clamps are designed to put a stop to leaks for weeks or even months, but you'll need 1-800-Plumber +Air of Dallas to provide a permanent fix to the leaky pipes.

Make your own sleeve clamp
If you don't have a pipe repair clamp handy, you can wrap the damaged pipe with a rubber strip and clamp the wrap with C-clamp, adjustable hose clamp, or a pipe-sleeve clamp.
Apply epoxy putty for leaks near a joint
A sleeve clamp might not stop leaks around the joint, so you have to apply epoxy putty to seal the leak. When applying putty, be sure to turn off the valve first.

"They were very professional and on time, the technician did what he was suppose to do then cleaned up and left me with instructions on how to finish installing the parts after I finish doing some tile work that needs to be done."
Andrei G.

Emanuel Reyes did a very thorough job and was very courteous.

Charles M.
1-800 Plumber + Air and Electric has done several jobs for me. They are professional and respectful. Shawn Harvey has been great to work with. Would highly recommend!

Satisfied Customer
Justin and Richard did a great job.

Satisfied Customer
We had to have someone come out today due to a sink and toilet leak. Swayze McLauglin was our plumber and he did a great job explaining the problem and how we could get it fixed. He was great at explaining price as well as what he was doing. Swayze was friendly and professional while he was here as well as working in these trying times with COVID-19 he followed all procedures and was great. We will be using yall the next time we need someone. Thank you so much Swayze for all your help!

Satisfied Customer
Friendly, courteous, knowledgeable.

Marylin L.
As a consumer and customer I am very happy with 1-800-Plumber Air of Pearland. I really appreciate the concern Joe and his helper showed for my issue and for the work they performed. I highly recommend 1-800-Plumber Air of Pearland

Lee
Nick did a great job and very nice and professional. Thanks

Evonne H.
I would like to recognize both Taylor and Emanuel for both outstanding customer service, professionalism,and craftsmanship on a recent repair at my home.

Alan J. No surprise
costs at the end of a job On-Time
Committed to on-time arrivals
Have a Broken or Leaking Pipe? Call Us!
Choose 1-800-Plumber +Air of Dallas to prevent long delays for damaged pipe repairs. Regardless of the source of leaks, our licensed team of professionals will correct your issue and put your worries about leaks behind.
Contact us
so we can assess the plumbing situation and provide a suitable, tailor-made solution.