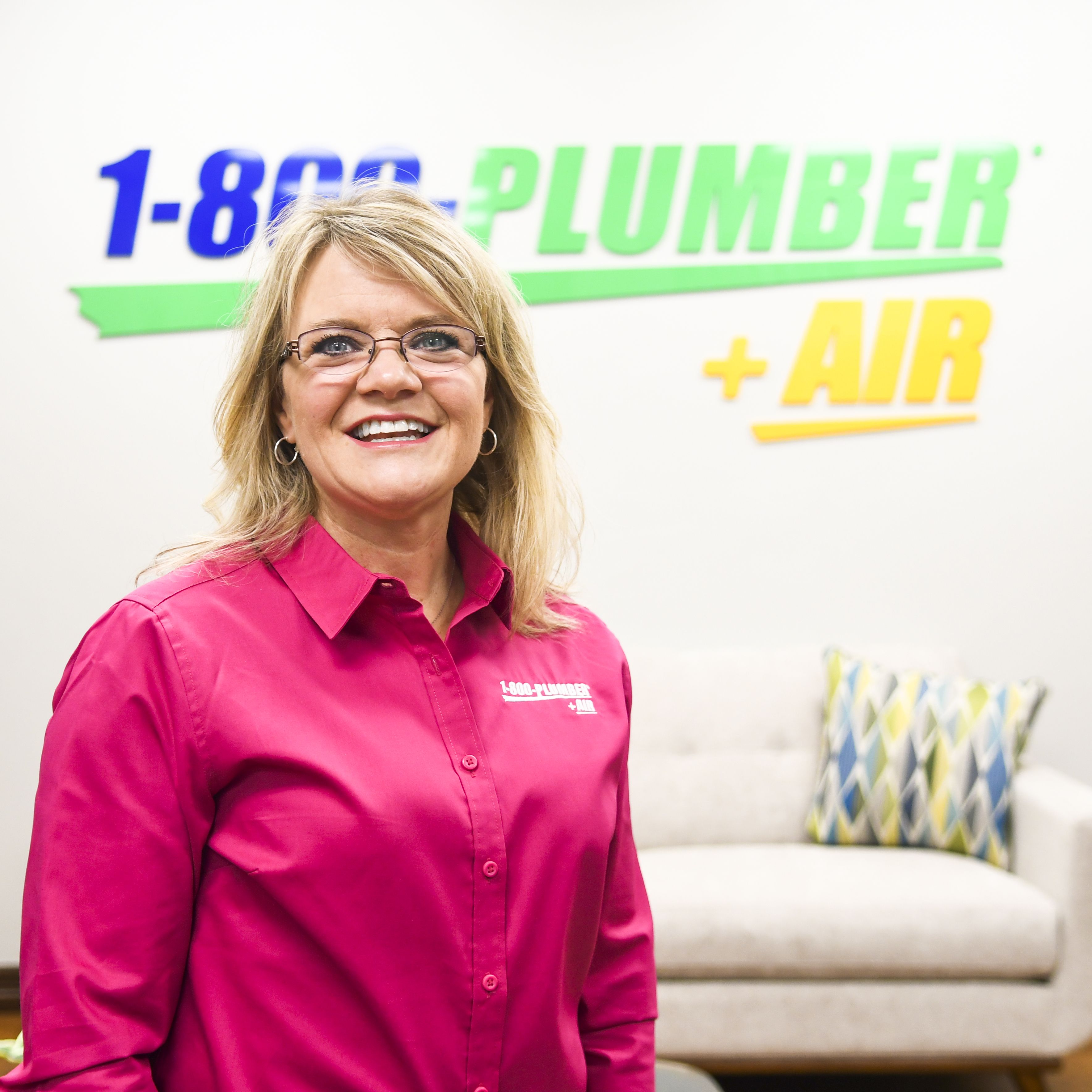 When it comes to owning a plumbing and HVAC business, Wendy Rife has a unique advantage.
With nearly 20 years of experience working in practically every facet of the real estate industry, Wendy understands the importance of providing quality customer service. At the same time, she realizes that customer service isn't always a top priority throughout the plumbing and HVAC industry.
This is where she distances herself from the competition.
As an owner of a new 1-800-Plumber +Air franchise, Wendy is looking forward to using her customer service skills to meet the plumbing and HVAC needs throughout the greater Indianapolis and Greenwood, Indiana areas.
When Wendy's 1-800-Plumber +Air location opens its doors in March, she will also be the first female owner in the company's nationally-recognized roster of franchises.
Although she takes pride in this, Wendy is even more excited to use her extensive real estate and business experience to create a trustworthy plumbing and HVAC service through the industry-leading 1-800-Plumber +Air brand.
"Plumbing is kind of an extension of real estate," she said. "They are both about your home, and your home is your sanctuary. Especially right now, when so many people are working from home. My goal is to ensure everyone gets a good experience because one's home is so important to them."
For Wendy, the key to providing a high-quality experience is with total and complete honesty with the customer. In fact, she knows this through first-hand experience.
"In my early 20's, I had little kids at home and one of my boys flushed a toothbrush down the toilet," she said. "To make a long story short, I ended up paying for a new, professional toilet that I absolutely did not need. I have the experience now to realize that I didn't need this, but as a young female in my 20's, I was totally taken."
Decades later, Wendy still remembers that incident. Actually, preventing something similar to this from ever occurring to one of her customers is one of the primary objectives for her 1-800-Plumber +Air franchise.
"I don't ever want to sell a customer something they don't need," she said. "That's cruel and it's dishonest. I never want any of my customers to have the feelings that I had after that experience. I want my customers to be comfortable calling me, and I want them to know that we will always be honest with them."
This attitude is one of the reasons she chose to join the 1-800-Plumber +Air team. She has wanted to own a business for a few years now and, when researching 1-800-Plumber +Air, she realized they shared identical values.
"I've been looking for a franchise that my son and I could do together," she said. "Initially, I really liked the 1-800-Plumber +Air website and I was extremely impressed with their core values. Then, after talking to them, I had no doubt that choosing 1-800-Plumber +Air was the right decision for me. They are very generous and caring, and I already feel very much a part of their team.
"They really care about me as a person, not just because I've purchased a franchise, " she added. "I feel like I've found a home with 1-800-Plumber +Air, and I want my customers to feel the same way about my franchise."
Currently, Wendy is enjoying the opportunity to assemble a team for her Indiana location. While knowledge and experience are important, every member of her crew will also take pride in her customer service-based approach to the plumbing and HVAC industry.
"Our goal is to have referrals and repeat business," she said. "This shows that you've earned someone's trust and you've treated them well. It's confirmation that you've done a good job.
"My entire team will inhabit the core values of 1-800-Plumber +Air," she added. "Honesty and integrity will be first and foremost. I'm excited about the prospect of building a team of great people and bringing this service to the people of Indianapolis and Greenwood."

1-800-Plumber +Air of Indianapolis