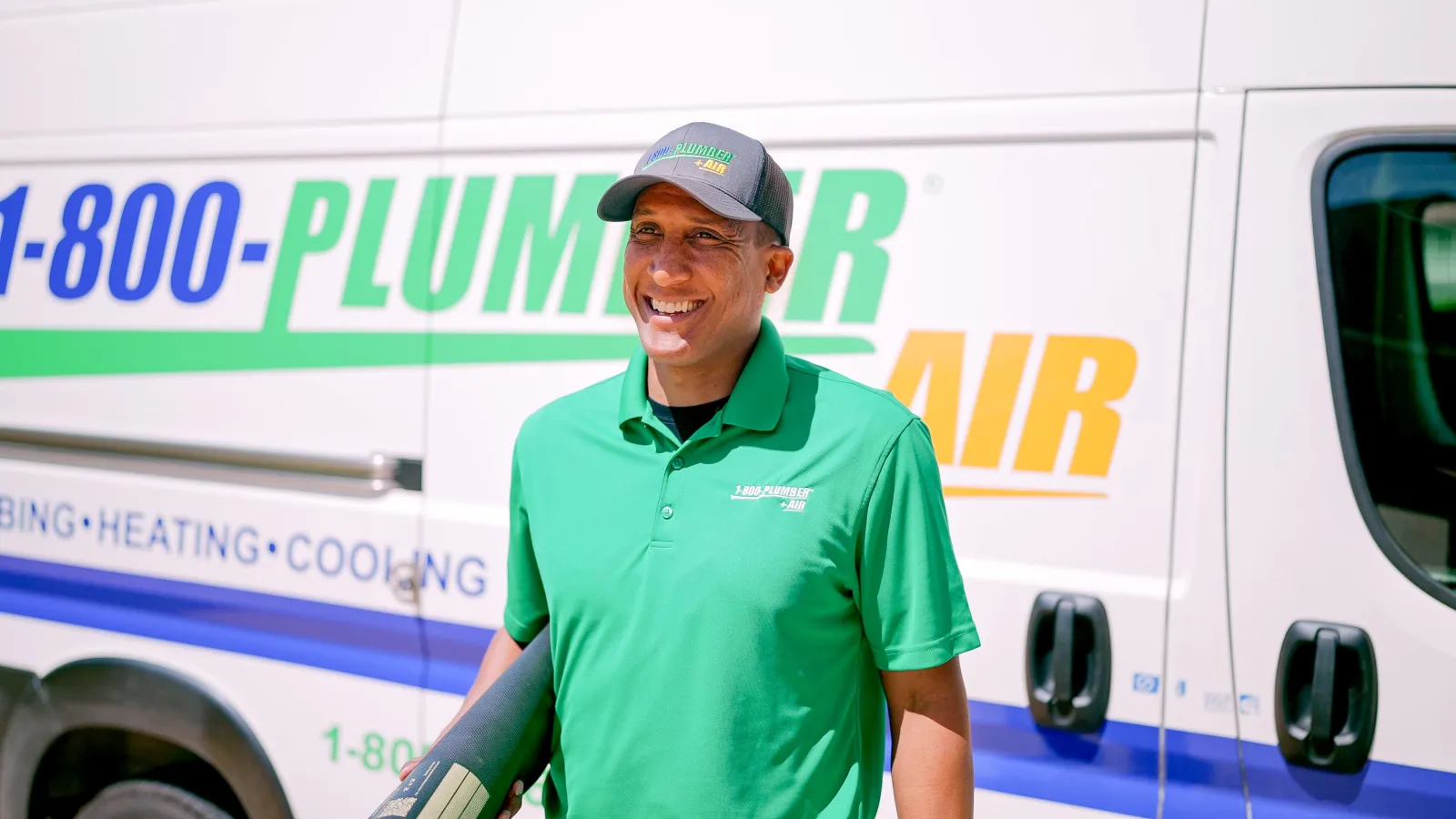 The Name Richmond Trusts for
WATER LEAKS
Having a
HOME EMERGENCY?
Call or Find Your Nearest Pro!
The zip code you entered is not associated with one of our locations. Please visit our Locations page to find your closest location.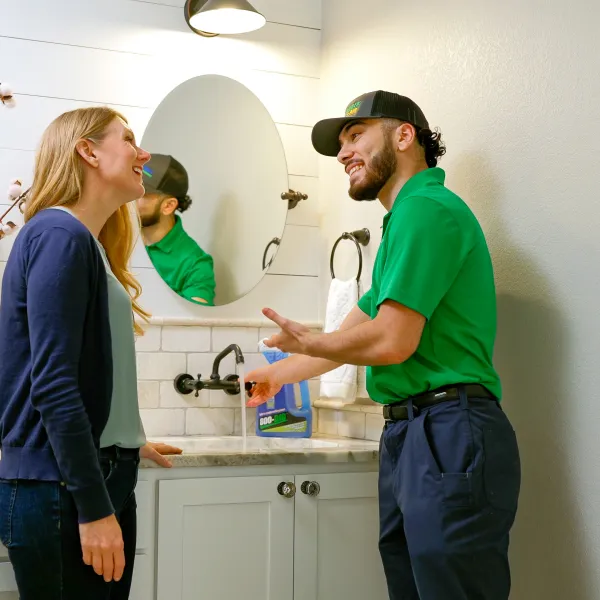 Water Leaks
1-800-Plumber +Air of Richmond
Your sink. Your pipes. Your water heater. Wherever a water leak is coming from, it's bad news. Delaying repairs means the leak - and the subsequent damage - gets worse. That's why you should call 1-800-Plumber +Air of Richmond for fantastic water leak repair.
Ready to
GET IT FIXED?
Contact Us Now!
How Water Leaks Happen
A water leak may catch you by surprise, but they originate in very logical fashions. These are some of the instigators of water leaks:
Frozen Pipes
Frozen pipes can eventually burst. As the temperatures drop, the water inside them freezes. This is too much for the pipes to handle, causing them to break. But you don't want to turn off your water. Instead, you want to keep it running at a steady trickle. You should also open your cabinets to help circulate warm air to your pipes.
You can also prepare for the winter by insulating your pipes. You can avoid frozen pipes with foam insulation. Ask 1-800-Plumber +Air of Pearland for recommendations about the best insulation options for your pipes.
Age
Even healthy people have to go to the doctor more when they get older. Sometimes, it's a minor issue. But a pattern can be a cause for concern. If your pipes have been leaking more than usual, it could be that they're too old.

Consider repiping if your pipes are constantly needing calls. You should definitely get repiping if your home or business has lead pipes, which are dangerous. Treat your pipes well, and you'll be rewarded with a longer lifespan.
Tree Roots
If you already have a leaky pipe, and that pipe is near any trees, you need to act fast. Otherwise, your leak could get bigger and harder to resolve. Roots love water, and they can soon settle in your pipes. It's definitely unpleasant to have your pipes simultaneously leaking and clogged.
You can try some short-term methods to get rid of the root, such as flushing rock salt. However, you need to focus on long-term solutions. Hire a professional plumbing service like 1-800-Plumber +Air of Richmond to remove a tree root for your pipe. We'll get rid of the root and repair or replace any affected pipes.
High Water Pressure
High water pressure is too much of a good thing. It can do intense damage to your pipes, including causing water leaks. But how does high water pressure happen, and what can you do to prevent it?
Usually, local water companies are responsible for high water pressure. Multiple people and systems need water, which can cause the companies to overcompensate and go too heavy on the water. It can also come from living at the base of a hill or needing a new expansion pack for your water heater. To help keep your water pressure in check, ask 1-800-Plumber +Air of Richmond about installing a pressure regulator.
What to Do If You Have a Water Leak
You might not be able to solve the water leak all by yourself, but you can take measures to reduce the damage.
Turn Off Water
You need to stop the flow of water completely. While you might only discover one leaking fixture initially, it could spread to other parts of your home. The safest option is to find your home's water shut-off valve.
If you don't know where the shut-off valve is, locate it now so that you can quickly keep water leaks from worsening. Once it's fully off, call 1-800-Plumber +Air of Richmond for help in fixing your leak. We can also shut off the water for you.
Inspect Fixtures
Water leaks can make you realize how many things in your house use water, and how worn-out they can get with age and extended usage. See what's going on with your water-using fixtures. This means your toilets, sinks, showers, water heaters, washing machines, dishwashers, and anything else relevant.
Even if not all of these fixtures are leaking, it's still good to look for any signs of decay or weak spots. If you want a more thorough examination, call 1-800-Plumber +Air of Richmond. We'll look over all of your plumbing fixtures to seek if any are or could experience water leaks.
Clean Up Water Immediately
Once the water is off, you need to focus on cleaning it up as much as possible. Use whatever you need to dry things up, such as a wet/dry vac or a dehumidifier. Act immediately, because you don't want to wait for mold to start forming. Should you see any signs of mold, you need to get out of the area and call a professional mold remediation service.
You might be able to get the water cleaned up yourself, but you'll still need professional assistance to prevent further issues. Call 1-800-Plumber +Air of Richmond to determine the cause of the leak and what subsequent measures need to be taken.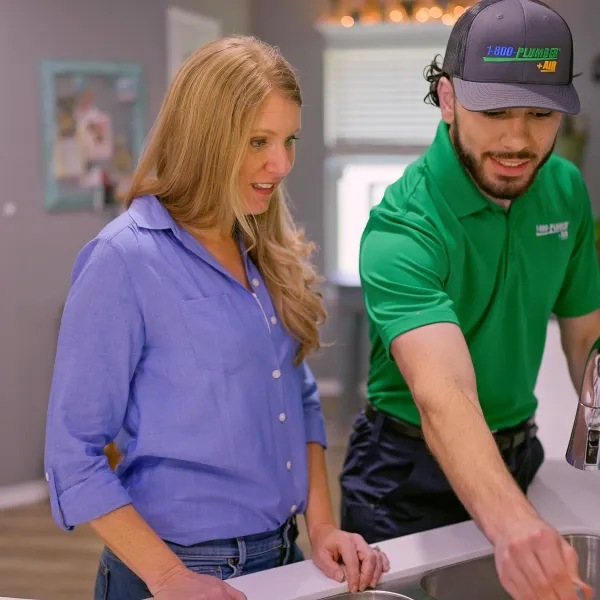 How to Avoid Water Leaks
Here are a few tactics you can use to prevent water leaks:
Flush Carefully
Clogs can happen due to nature, but they often happen due to human error. Don't flush anything down your toilet other than toilet paper and human waste. Even things that you think should be flushable, such as cotton swabs, aren't. You should also train your kids to not flush anything they're not supposed to. There are also handy devices you can install to catch non-flushable items before they go down the drain.
Don't Use Store-Bought Drain Cleaner
Chemical drain cleaners have corrosive properties that eat away at clogs. The problem is, they're also corrosive enough to eat through pipes. When you send it down your drain, it can stay on your pipes and slowly ruin them. Even worse, it can be useless against certain kinds of clogs, such as ones from tree roots and hard objects.

There are some chemicals you can safely use to unclog your drains, such as a mixture of vinegar and baking soda, accompanied by hot water. However, this should be seen as a short-term solution. To get rid of a clog and keep leaks from happening or worsening, call 1-800-Plumber +Air of Richmond.
Know When to Replace
If your fixtures are nearing their natural deadline, you should get them replaced. Your water heater might last more than 15 years, depending on how well you take care of it. However, it could soon start to malfunction and leak, becoming a major inconvenience as you work to get it replaced in time.
Keep track of your fixtures and their ages. If you keep having to repair them for leaks, you should save your money and just get them replaced. Ask 1-800-Plumber +Air of Richmond about newer, advanced fixture installation.
Plugged drain outside of house. Came out the next day, showed us the video of the tree branches in our line, gave me a quote over the phone and I had them start work. Finished in a few hours and left with our system drain restored.

Craig C.
Emanuel came out to inspect why our commode was not flushing properly. After an inspection he describer the options. Since the commode was over 40 years old we picked the option to replace the commode with a new one. He Asked several questions about what we would like and the showed us two options. We picked the one that we liked and he obtained the commode from the ware house and installed it the same afternoon.. He completed the installation and did a great clean up of the area and answered answered all of our questions. I fully recommend Emanuel and 1-800-Plumber of Pearland

Steve E.
This is a very professional and helpful team! Would definitely recommend to all my friends and family in the Houston area!

Tyler S.
"They were very professional and on time, the technician did what he was suppose to do then cleaned up and left me with instructions on how to finish installing the parts after I finish doing some tile work that needs to be done."
Andrei G.

Kyle was efficient and professional when handling my faucet water leak. He was an expert problem solver to my numerous problems. Success!

Cheryl S.
Fine young man and as far as I am concerned he can be his permanent tech. He was very polite and he was very pleased with him and will be calling us again to work with Manolo. Manolo needs a pat on the back and he did a good job.

Satisfied Customer
Emanuel Reyes arrived on time and was extremely courteous and professional. Evaluated problem and took care of it in extremely short time and price was very fair. Will call again when necessary.

John T.
Kyle did an excellent job. He was very thorough and explained everything from start to finish. I would strongly recommend Kyle for any plumbing you might have.

Kyle
This was my first time with 1-800-Plumber Air of Pearland. I called with a minor issue with the dishwasher drain hose and asked that a tech be dispatched on Saturday so that I could be home from work. Chad was scheduled between 8am & 10am today (Sat) and arrived just before 9am. Chad was very knowledgeable and explained to me the entire process. He also answered my many many questions about what he was doing as he was doing it. I'm a smart guy but know very little about plumbing. I felt very comfortable with Chad doing the repair. The long and the short of it, 1-800-Plumber Air of Pearland has a new longtime customer and I will request that Chad be sent if possible the next time I have a plumbing issue.

George T. No surprise
costs at the end of a job On-Time
Committed to on-time arrivals
Why Call Us
The first person you think of when you have a water leak is a plumber. We instead want you to immediately think of us. This is why you should call 1-800-Plumber +Air of Richmond in case of a leak.
Experience
We've dealt with a few leaks in our time. Since starting in 1999, the 1-800-Plumber +Air brand has resolved leaks from all kinds of fixtures, seasons, and weather conditions. We know the right methods for all of them, and our decades of experience have made us increasingly efficient.
Emergency Plumbing Services
Water leaks are so stressful because of how much long-term damage they can do. They can also make you feel like you have to choose between two unpleasant options. You might have stopped the leak by turning off the water, but you still need running water in your home.
That's why an emergency plumbing service like 1-800-Plumber +Air of Richmond is so useful. Give us a call, and we can be at your home in an hour or less. We offer 24/7 services, which also means weekend and holiday services.
Positive Feedback
1-800-Plumber +Air of Pearland is proud to have received so many positive notices from our clients. We can fix leaks in homes, businesses, churches, and anywhere else our services are needed. Our clients have graciously given us incredible feedback in return. On Google, we have more than 300 reviews, and an average star rating of 4.9 (out of a possible 5).
Ask us for references, and we'll be more than happy to provide them. We adhere to all the tenets of quality plumbing work, including: honesty, work ethic, and efficiency. We hope to earn a good review from you as well.
Got Water Leaks? Call Us!
A water leak is an unfortunate experience, but it doesn't need to ruin your home or your day. 1-800-Plumber +Air of Richmond can stop your leak and prevent future ones from starting. Contact us today if you have any further questions, or call us right now for emergency plumbing services.