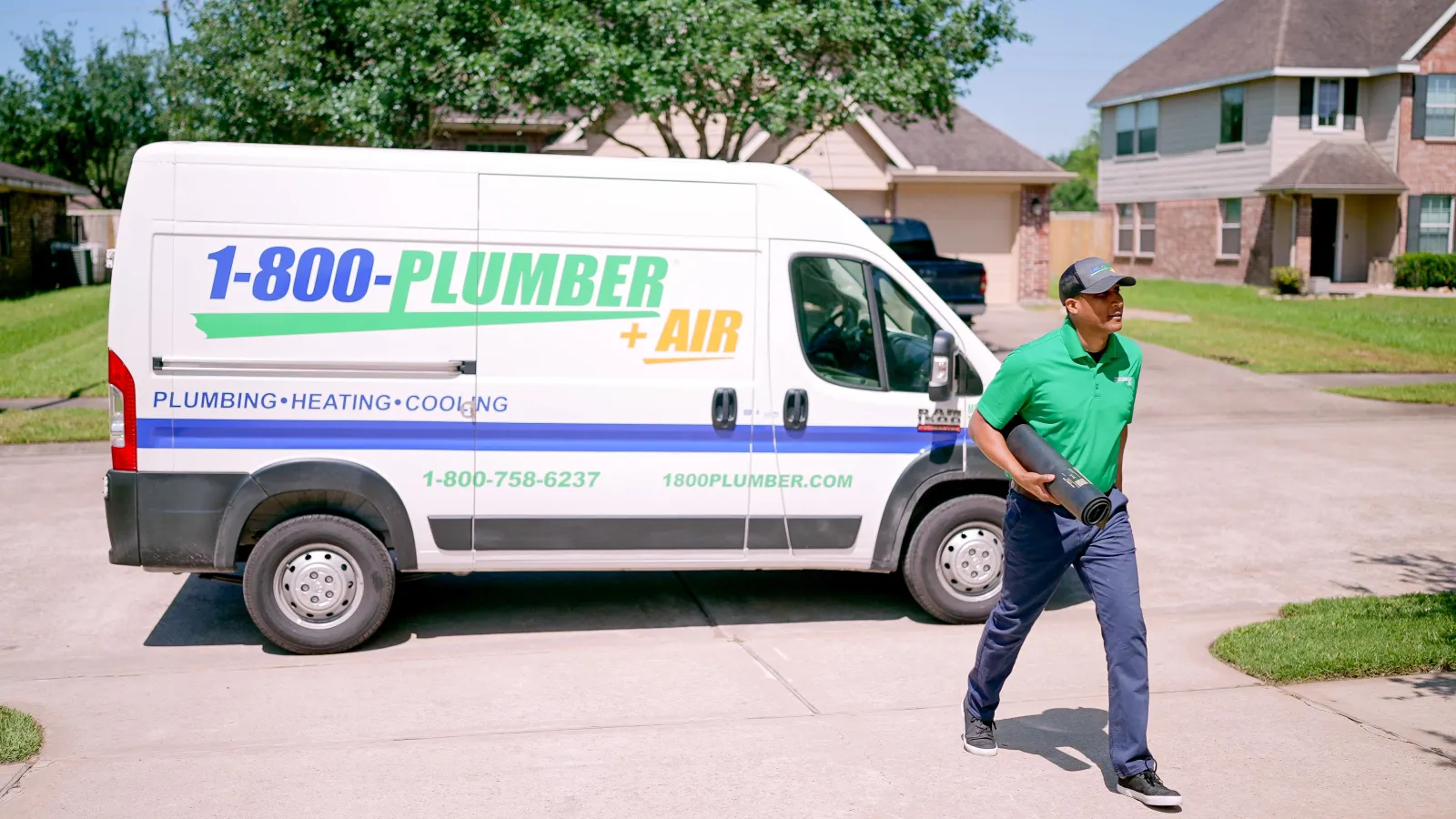 The Name Houston Trusts for
DRAIN CLEANING SERVICES
Having a
HOME EMERGENCY?
Call or Find Your Nearest Pro!
The zip code you entered is not associated with one of our locations. Please visit our Locations page to find your closest location.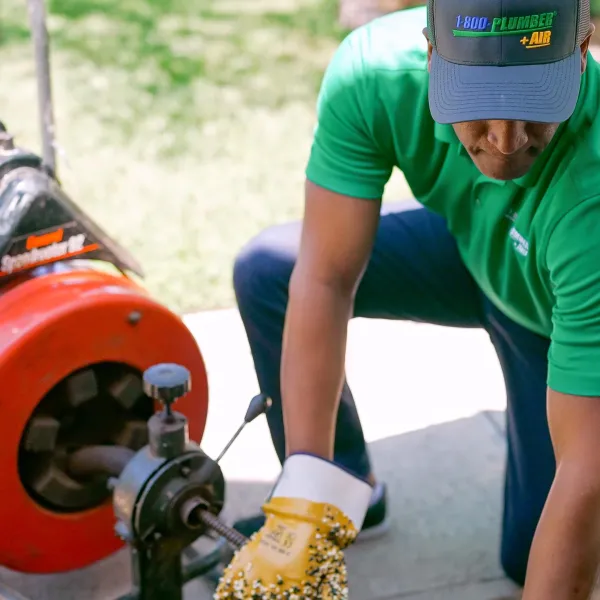 What To Do When You Have A Clogged Drain
1-800-Plumber +Air of Northwest Houston
You know when a drain is clogged. Either you're in the shower and all the water is up to your ankles not draining, or your bathroom sink fills when you go to brush your teeth, or the kitchen sink won't drain when you do the dishes. These issues can happen at any time, and a clog can be annoying but can also be a signal that there is something wrong with your pipes. Sometimes it's a simple fix, and other times the issue goes deeper. We at 1-800-Plumber +Air of Northwest Houston are here to answer your questions, and get your drains working properly again. Need immediate assistance? Contact Us now, or give us a call, at 1-800-Plumber +Air of Northwest Houston the name you can trust.
Ready to
GET IT FIXED?
Contact Us Now!
How do clogged drains happen?
Clogged drains at some point are just going to happen. Even with the best preventative maintenance, at some point or another, we have all dealt with it. But we at 1-800-Plumber +Air of Northwest Houston are here to help, from some tips and tricks and why clogged drains happen in the first place. Have a clogged drain? Contact Us for immediate assistance.

Common causes of clogged drains
Most bathroom drain clogs are a result of a buildup of dirt, skin flakes, soap scum, and hair. All of these items over time can get stuck to the side of the drainage pipe slowly restricting water flow over time until it stops completely.

Clogged toilets. No one enjoys it when they go to flush the toilet, and instead of the water going down, you watch in horrifying terror as the water starts to rise. The first thing to do is to turn off the water, after that, then you can deal with why what should be going down, is going up.
Toilets mostly get clogged when things go down that shouldn't go down a toilet such as, even though the name says it, flushable wipes. The name is misleading, unlike toilet paper which starts to break down as soon as it touches the water, flushable wipes do not. They do not break down when they touch the water and can cause drain stoppages with use. Other common products that we see clogging toilets regularly are feminine products, diaper wipes, diapers, dental floss, and cotton swabs. The best preventive tips we can give are to only put waste and readily dissolvable toilet paper down, everything else should go in a trash can, and that should hopefully keep your toilet from clogging.
Kitchen sinks mostly get clogged when fats, oils, and grease go down the drain, as they cool, and other small bits of food and soap go down, they can easily clog your drains causing a water backup
Fats, Oil, and Grease, should never go down the drain, the best thing to do is let them solidify and dispose of them in the garbage.
Can I fix the clogged drain by myself?
While a clogged drain or a clogged toilet may seem like a simple fix, a lot of times there is a bigger issue at hand. We always recommend calling a trusted and licensed plumber to come to look at your clogged drain, they will be able to tell you if it is a simple fix, or if it is something more major, and they will be able to fix it fast so you do not have to get your hands dirty or be stressed about trying to figure out how to fix it.

Clogged toilets
For a clogged toilet, the trusty plunger may do the trick, we have a couple of tips and tricks that may help you.
The first plunge with a plunger should be a gentle one, the plunger will be filled with air, so being gentle here will save you from hopefully getting water splashed on you.

Once the air is out of the plunger, plunge gently but forcefully, you will want to keep the seal on the plunge the whole time, this will be forcing water to move in both directions, hopefully clearing the blockage.

Keep enough water in the bowl to keep the plunger covered, forcing air down the toilet usually isn't enough to clear the blockage.

If this doesn't work, call a plumber, they will be able to get it cleared in no time and get your bathroom back up and running.
Clogged drains
For clogged drains, we recommend calling a licensed and trusted plumber, while some people recommend that you can go at it with a plunger, this can sometimes cause more harm than good. While a toilet can take some light plunging, sinks and drains are usually not as sturdy and sometimes you can blow out your plumbing and break some pipes.
If you have any questions feel free to call us at 1-800-Plumber +Air of Northwest Houston or Contact Us now. We're proud to be the name Houston, Cypress, Katy, Tomball, and Spring trust.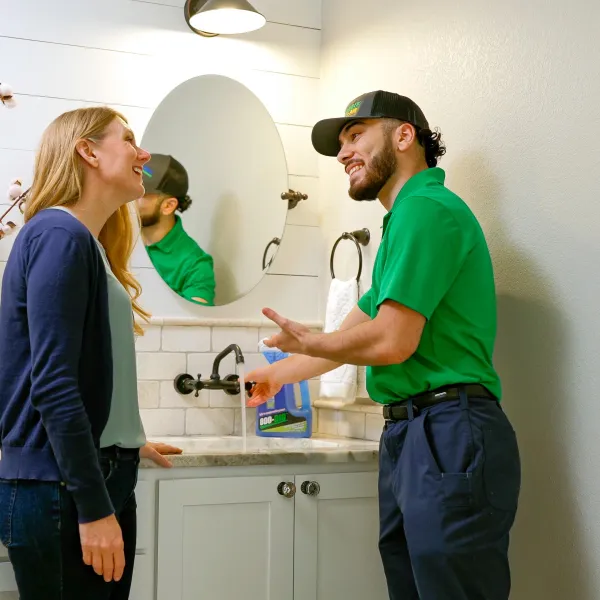 Have a clogged drain? Call us, 1-800-Plumber +Air of Northwest Houston
Dealing with a clogged drain can be frustrating and it may feel like your life is on hold until it gets fixed. There is no time to lose when it comes to dealing with the plumbing problem. Get your drain unclogged and your life back to normal with 1-800-Plumber +Air of Northwest Houston. We understand how important it is to have to get plumbing or HVAC repairs, and we are here to help.
If you are searching for a plumbing company you can trust, 1-800-Plumber +Air of Northwest Houston is always available. We are one of the industry leaders. No matter what the situation or the time, we can come over to help with all of your plumbing needs and more! Call for immediate assistance or Contact Us for a future appointment.

Apart from the services we offer, there's a lot that makes us stand out from the rest of the pack. First, we listen! We strive to give our customers exceptional service, which includes listening to your needs. Our technicians will listen and come up with a practical and lasting solution. We encourage our clients to ask questions whenever they need clarification. We also ensure we explain our proposals thoroughly and keep you informed every step of the way. So give us a call today!