Your Professional
SERVICES
Our Top Emergency
Services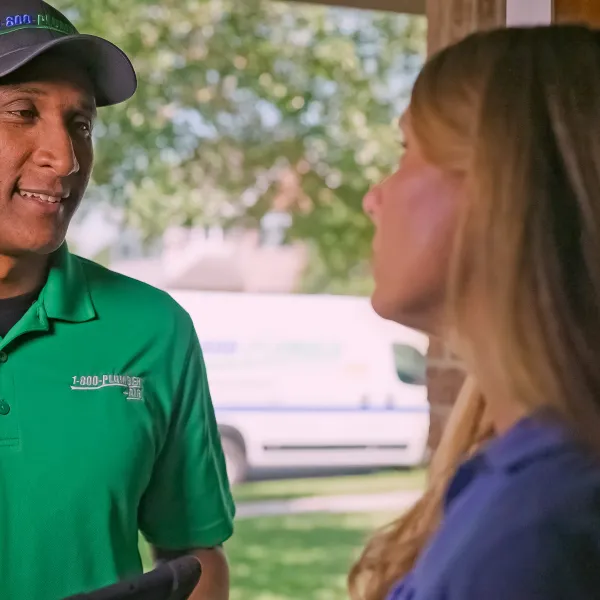 Furnace Replacement
1-800-Plumber +Air of Plymouth

It's important to prepare your home before winter so you'll stay warm and comfortable when the cold climate starts kicking in. The first thing you need to do to find out if your heating system is still working perfectly is to find out the age of your unit. Furnace replacement might be necessary if your unit has been around for more than a decade. Book an appointment with 1-800-Plumber +Air of Plymouth to find out if your heating system needs repair or replacement.
Ready to
GET IT FIXED?
Contact Us Now!
What are the most common issues with a furnace?
A malfunctioning furnace can be a stressful situation. No matter how you regularly maintain it, your heating system will eventually fail and it's inevitable. While repairs might temporarily solve the problem, a furnace that has reached its peak needs replacement. We at 1-800-Plumber +Air of Plymouth can help you get your heating system replaced. Here are the common issues that will help you determine if you have to replace your furnace.
Malfunctioning thermostat: When your thermostat stops working properly, the fan will constantly run, causing the furnace to become inefficient. You can test if your thermostat is problematic if you set the fan on auto. If it's running constantly at all settings, it may mean your thermostat needs replacement.
Clogged filters: A clogged or dirty filter can prevent your furnace from functioning. If ignored, the problem can lead to limit switch damage. You can ensure peak performance by swapping out filters at least once a quarter.
Weak or flickering pilot light: The pilot light of your furnace is essential and once it starts to flicker or it becomes weak, your gas furnace might have excessive carbon monoxide. This problem is better left to experts because it requires changing your pilot light. Contact us so we can have it replaced as soon as possible.
Damaged heat exchanger: A cracked heat exchanger is a costly problem that shouldn't be taken for granted. Your heat exchanger enables the furnace to run safely by separating the warming flame from the air.
Frayed blower belt: The blower belt helps the fan of your furnace to run. With constant use, it can begin to break or fray. You will know when there is a problem with your blower belt because your furnace produces a high-pitched sound while the system is running. Belt replacement will increase the efficiency and improve the performance of your fan.
Overcycling: A furnace kicking on frequently is a sign of ovecycling. The problem might be caused by improper airflow or clogged filters. An overcycling furnace can take a toll on your power bill.
Failing limit switch: A limit switch is malfunctioning when your furnace is continually blowing. This problem requires a licensed technician.
Furnace not blowing air: There are many reasons your furnace isn't blowing air. It can be a clogged or dirty blower. If the light on your blower is flashing, it might also be causing the problem.
Worn out bearings: The ball bearings ensure the motor of your furnace works properly. Over time, these bearings will wear out and may need replacement. If there is a scraping sound coming from the furnace, turn the system off immediately and call a technician to assess the problem.
Rattling noise: A popping or pinging noise that comes from your furnace is due to some issues like loose panels. You need experts at 1-800-Plumber +Air of Plymouth to identify the problem.


When should you replace your furnace?
The average lifespan of a furnace is between 15 years and 30 years depending on how well maintained your system is. However, as your furnace gets old, it becomes less efficient. For most homeowners, furnace replacement is more practical than repairing an old furnace. While gas furnaces have a shorter lifespan than electric furnaces, the former has lower operational cost.
If your furnace shows any of these signs, you might need to consider replacing them:
Temperature Fluctuations
When there is a sudden change in temperature, it is an indicator that your furnace is no longer working as it should be. Fluctuations can be due to a number of reasons but one thing is for sure, your furnace is becoming less efficient, losing its ability to distribute enough heat.
Furnace Noises
The root of the problem can be evaluated based on the noise that your furnace produces. For instance, if you hear a screeching noise, it means the blower motor of your furnace is damaged. A clicking sound indicates a problem with the igniter or flame sensor.
High Energy Bills
Your furnace will have difficulties distributing heat once it has reached its peak. When a furnace is working harder, there will also be a spike in your energy bills. Repair might fix the issue, but an aging furnace needs replacement to provide heat all throughout your home.
Yellow Furnace Flames
A new furnace produces a clean blue flame but when it starts to fail, the flame from the burners becomes yellow because of the carbon monoxide it produces. Yellow flames are also a sign of a gas leak due to improper combustion process. If you see yellow flames in your furnace, give 1-800-Plumber +Air of Plymouth a call to schedule an appointment.
Do I have to replace my furnace? Can I do it myself?
While you can perform a few basic checks to deal with the problem, a heating system not behaving the way it should needs a troubleshooting expert to get your furnace up and running. A team of licensed technicians at 1-800-Plumber +Air of Plymouth uses the right tools to fix the issue. You can potentially harm yourself when you choose a DIY furnace repair.
Call us at 1-800-Plumber +Air
Let us restore your comfort by handling furnace replacement. We at 1-800-Plumber +Air of Plymouth will help you upgrade to a modern unit. Contact us and so we can discuss all the available options.
This was THE most painless repair experience! We had a leak in a pipe behind our water heater, spewing water out into space, ugh. Joe and his apprentice, Dan, were here in about an hour or so. They were both so very friendly from the moment they showed up at the front door! After they determined the problem, we discussed the needed repair, and then they began to replace the pipe(s) behind the water heater. This was pretty much an all-day job and I can honestly say it was no problem having them in my home. They were not only professional and courteous employees; they were two very kind individuals, who were also comfortable and friendly around my crazy dogs! I have had nothing but the finest experiences with this company and cannot recommend them highly enough! They are the best!

Barbara H.
Very professional and knowledgeable. The office staff communicated well and were helpful and courteous. We had a major plumbing job done. The cost for all they did was reasonable. The service pro tech, Emanuel Reyes did a great job! We will definitely recommend 1-800 plumber of Pearland,

Wanda N.
Emanuel Reyes replaced my kitchen faucet and sink basket strainer today, 3/2/20. I appreciate the quality of his work. Emanual did a fantastic job. If I need a plumber in the future, I'll call 1-800-Plumber and ask for Emanuel Reyes.

Jean Broussard M.
Plugged drain outside of house. Came out the next day, showed us the video of the tree branches in our line, gave me a quote over the phone and I had them start work. Finished in a few hours and left with our system drain restored.

Craig C.
Kyle provided excelleent service as he always does. I have had some tricky plumbing problems and he has always solved the problem with efficient service and winning personality. He did a beautiful job on my pipe. He takes a lot of pride in his work .

Ruth L.
Emanuel came out to inspect why our commode was not flushing properly. After an inspection he describer the options. Since the commode was over 40 years old we picked the option to replace the commode with a new one. He Asked several questions about what we would like and the showed us two options. We picked the one that we liked and he obtained the commode from the ware house and installed it the same afternoon.. He completed the installation and did a great clean up of the area and answered answered all of our questions. I fully recommend Emanuel and 1-800-Plumber of Pearland

Steve E.
Exceptional service! I highly recommend them for your plumbing needs!

Angelica C.
We had to have someone come out today due to a sink and toilet leak. Swayze McLauglin was our plumber and he did a great job explaining the problem and how we could get it fixed. He was great at explaining price as well as what he was doing. Swayze was friendly and professional while he was here as well as working in these trying times with COVID-19 he followed all procedures and was great. We will be using yall the next time we need someone. Thank you so much Swayze for all your help!

Satisfied Customer
They were very professional and clean. Also did a great job on my air conditioning my house feels great.

Satisfied Customer
Nick did a great job and very nice and professional. Thanks

Evonne H. No surprise
costs at the end of a job On-Time
Committed to on-time arrivals