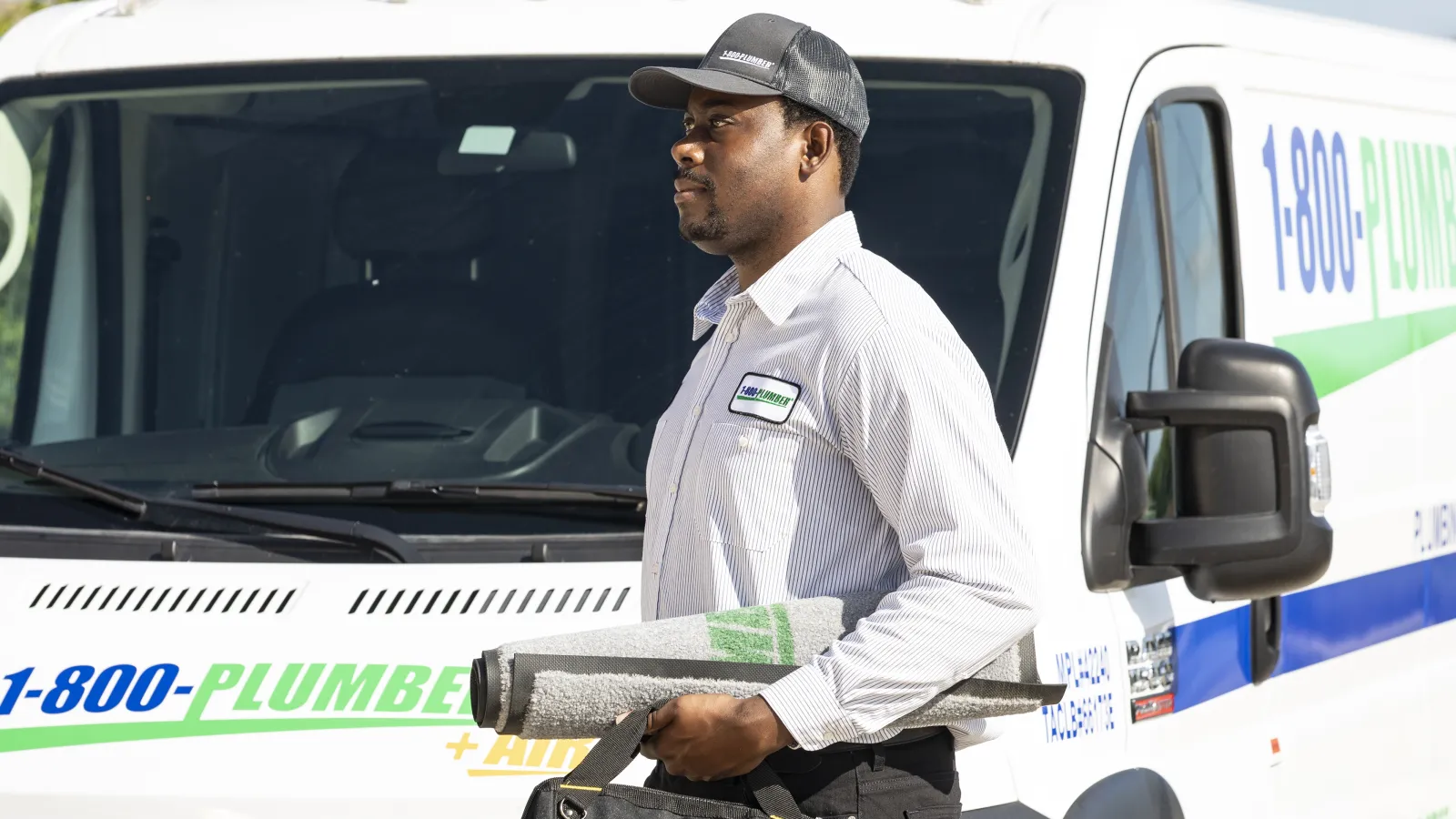 Amarillo
EMERGENCY AC REPAIR
Having a
HOME EMERGENCY?
Call or Find Your Nearest Pro!
The zip code you entered is not associated with one of our locations. Please visit our Locations page to find your closest location.

Your Professional
SERVICES
Our Top Electrical
Services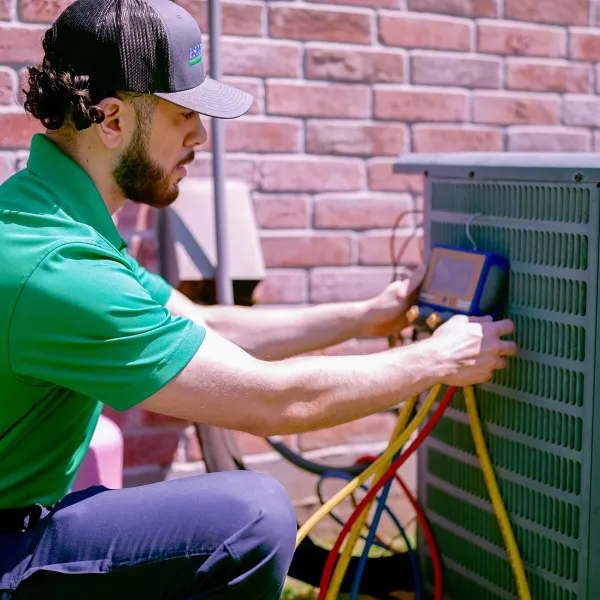 Emergency Air Conditioner Repair
1-800-Plumber + Air & Electric of Amarillo

Ready to
GET IT FIXED?
Contact Us Now!
What are the Most Common Emergency Air Conditioner Repairs?
Air conditioners are durable and long-lasting machines when you take proper care of them. However, like all appliances, they have a definite lifespan, typically lasting between 15 and 20 years. Depending on the quality of your air conditioner and how it was installed, that number can go up or down.
While different air conditioners from various manufacturers get built with their own unique designs, they all share similar traits and problems. Here are some of the most common emergency air conditioner repairs and what to do about them.
Refrigerant Issues
Refrigerant, also known as freon, is what gives an air conditioner its ability to create cool air to disperse throughout your home. Without refrigerant, or if you have a leak causing the loss of refrigerant, your air conditioner won't be able to produce cold air. As a result, you'll likely start feeling lukewarm or stagnant air coming out of your air vents.
When this happens, your air conditioner is likely out of refrigerant due to a leak. Refrigerant leaks are
inconvenient and dangerous to your air conditioner and can only be checked and repaired by an HVAC professional with the proper tools and training.
Iced Coils
If you start to notice that air isn't flowing out of your air vents or that it's restricted, there's a good chance that you have icy coils. Iced coils happen when you have low refrigerant, dirty coils, or a dirty air filter, all of which cause reduced airflow through your evaporator coils. Because there's too much air and not enough circulation, your evaporator or condenser coils and even your refrigerant lines will start to have ice form on them.
If you know you have iced coils, you should immediately turn off your air conditioner. Give it enough time to let the ice melt from the coils before restarting it. If the problem repeats itself, you should
contact us
at 1-800-Plumber and allow us to inspect your HVAC system. Iced coils are usually caused by an underlying issue that must be resolved for your air conditioner to function normally.
Dirty Air Filter
Your air filter's job is to block dirt and debris as it cycles through your HVAC system. The goal is to keep this nastiness from entering your home through your air vents. However, air filters can only last for three to twelve months before they get too dirty and block airflow altogether. A dirty air filter can cause iced coils or overwork your HVAC system.
Thermostat not Working
The thermostat tells your HVAC system what to do and when to do it. If your thermostat isn't working, the likely result is that your air conditioner won't turn on.
Electrical Malfunctions
Your air conditioner has a number of electrical components both inside and outside the AC. The most likely electrical malfunction that you'll run into is a blown fuse or a tripped circuit breaker. Either way, your air conditioner won't turn on, and you'll have to seek emergency air conditioner repair.
Drainage Problems
As your air conditioner is running, it removes humidity from the air inside your home. This humidity is converted to condensation in your evaporator coils, and the drainage is removed through a PVC drain line attached to the front of the coil. If this drain line becomes clogged or your condensate pump isn't working, water will back up into your coil and furnace and can even cause damage to your air conditioner or HVAC system.
What Constitutes an Air Conditioner Emergency Repair?
It's important to note that just because your air conditioner isn't working doesn't mean it's an emergency repair. If the temperature outside is cool or moderate and you aren't uncomfortable in your home, you would do well to save money on getting emergency HVAC services.
However, if it's the middle of summer and you, your family, and your home are being put in danger because of an air conditioner that won't start, you should invest in air conditioner emergency repair. Hot, stagnant air in your home can create humidity, mold, and mildew and can dehydrate you and your family to the point of danger.
How to Avoid Needing Emergency Air Conditioner Repair
Like I said before, most emergency air conditioner repairs result from improper maintenance and not taking care of your AC. By regularly checking your air filters, keeping your coils clean, keeping the area clear around your condenser, and making sure your condensate drain is working, you can steer clear of most emergency repairs.
However, the best thing you can do to prevent needing an emergency air conditioner repair is to schedule regular maintenance checks for your HVAC system. Getting a maintenance check for your air conditioner is like taking your car in for an oil change. You know that not changing the oil will cause issues with your car, and a lack of professional maintenance will cause similar problems with your air conditioner.
Who to Call for the Best Emergency Air Conditioner Repair in Texas
Despite proper maintenance and having your air conditioner regularly inspected by an HVAC pro, you might still need emergency repairs. You should contact us at 1-800-Plumber + Air & Electric of Amarillo when that happens. We serve Amarillo and the surrounding areas and offer 24/7 emergency repair service. Whether you need us in the middle of the night or on holiday, we'll be there as soon as possible to get your AC back up and running like new.
If your AC is in need of replacement rather than simply repairs, we can do that too. We can even provide a temporary fix whenever possible until we have time to return for total repairs or replacement. Our goal is to keep you and your family safe from the intense Texas heat.



4. Home Isn't Getting Cool
If you are running your A/C and your house is not getting cool; it is time to call a professional to track down the root cause of the issue.
Make sure to change your air filter on a regular basis, make certain your thermostat is functioning effectively, and check that all the vents are open in every room. If after doing this, it does not solve the problem, it's time to arrange to call a local Amarillo professional.

5. Poor A/C Compressor
Keep an eye on your heating/cooling unit. If you observe water leaks or ice accumulation, you may have a bad air compressor. As soon as you notice water pooling on the ground around the device, schedule a call as you may have damages that may lead to electrical failure.
An Overview to A/C Fixing to Obtain Your Home Ready for Winter in Amarillo
Keeping your air conditioner running properly is important. That's why you need to be able to identify the need for AC repair. Fortunately, the tips contained here can help keep small problems from getting out of hand.
Call us at to schedule an emergency service call for your air conditioner.